Friday 6th. August @ 16:30


Buy Tickets Here


Venue: Cinemateket 
Pier Kids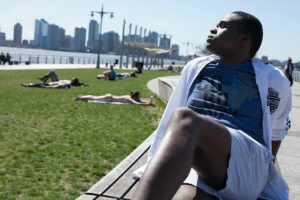 Director: Elegance Bratton, Duration: 96 min, Country: USA, Year: 2019, Language: English
Pier Kids explores the lives of the Black, homeless queer and trans youth who call the Christopher Street Pier in New York City their home, forging friendships and chosen families. The documentary focuses the kids as they navigate their lives, withstanding homophobia and discrimination while working to carve out autonomy and security.
Director, Elegance Bratton's vérité camera plunges viewers into the midst of the chaos. Red and blue police lights flash in the corners of many frames, and interviewees speak to us on their level, their views and circumstances never prettied-up for easier consumption. What could come across is that the black queer community is suffering, but Bratton and the participants have let us past barriers to push our seeing further than the surface read. We can see that there is struggle in being houseless and resourceless, and there is also very strong friendship in the scene.
Event: The screening is accompanied by a conversation relating some of the central themes explored in the documentary to the Danish context. 

DK
Pier Kids følger en række afro-amerikanske, hjemløse queer og trans-personer, der kalder Christopher Street Pier i New York City for deres hjem. Her knytter de venskaber og skaber selvvalgte familier. Dokumentaren følger dem i en hverdag, hvor de navigerer mellem homofobi og diskrimination, mens de arbejder på at skabe autonomi og tryghed i livet.
Med vérité-agtige kameraføring kaster instruktør Elegance Bratton os direkte ind i kaotiske scener. Kameraet fanger politibilernes blå og røde blink, mens de medvirkende fortæller direkte og i øjenhøjde: deres synspunkter og omstændighederne forbliver usminket og rå og bliver aldrig tilpasset letfordøjelige underholdningskriterier. Det er tydeligt, at det sorte queer-samfund lider, men Bratton og de medvirkende tillader os at komme at komme tættere på og skubber os til at se dybere under overfladen. Vi ser, at det er en kamp at være hjemløs og uden ressourcer, men vi ser også et stærkt fælleskab.
Event: Efter filmen følger vi op med en samtale om nogle af filmens centrale tematikker i en dansk kontekst.
---
Sunday 8th August @ 16:30, 


Buy Tickets Here


Venue: Cinemateket 
Jade
Directed by: Lara Singer|  Country: UK |  Year: 2021  |  Duration: 7 min  |  Language: English with English Subtitles
JADE is a short film series 'Stories Untold'  that features stories of London-based migrants. These stories help us understand the current rhetoric surrounding migration in a post-Brexit Britain.
DK
Jade er en del af kortfilmserien "Stories Untold", som udfoldes gennem fortællinger fra migranter i London. Deres historier der hjælper os til at forstå den aktuelle retorik omkring migration i Storbritanien i kølvandet på Brexit.
Shadow Game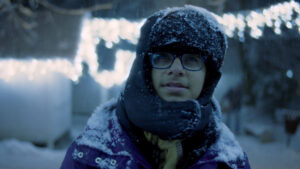 Director: Eefje Blankevoort, Els van Driel, Duration: 90 min, Country: Netherland, Year: 2021, Language: Urdu, Arabic, Farsi,Pashto, English with english subtitles
Many of them call it 'the game': the journey along the Balkan route into western Europe. For the teenage boys we meet in Shadow Game, it is a way to keep themselves motivated. There are different games: the train game, the container game, the walking game. 'It's a mission', SK (15) from Afghanistan says. 'If you complete it, you win the game.' And if you fail, you will try again next time. There really is no other option.
"Shadow Game" brings us very close to the many unaccompanied minors trying to find protection in Europe. The disarming Hammoudi (14) from Syria tells us about the time he was stopped by masked policemen in Croatia. We see Yaseen (17) from Pakistan, carrying a little cat he found and shares his food with. For all of them, and the other boys in the film, the emotional and physical impact of what they're going through is severe. Still, many retain a youthful, innocent optimism. Warm, human and truly beautiful.
Event: The film will be accompanied by a conversation on Danish asylum policies and the current situation of border controls. 

DK
De kalder det 'the game': rejsen langs Balkan-ruten for at komme til Vesteuropa. For de teenagedrenge vi møder i Shadow Game, er det en måde at fastholde motivationen. Der er forskellige spil: togspillet, containerspillet, vandringsspillet. 'Det er en mission', siger SK (15) fra Afghanistan. "Hvis du gennemfører, vinder du spillet.' Og hvis du taber, så prøver du igen. For der er faktisk ikke andre muligheder.
"Shadow Game" bringer os helt tæt på de mange uledsagede mindreårige, der prøver at finde beskyttelse i Europa. Den afvæbnende syriske dreng, Hammoudi (14), fortæller os om dengang, han blev stoppet af maskerede politifolk i Kroatien. Vi ser pakistaneren Yaseen (17) bærer rundt på en lille kat, han har fundet og nu deler sin mad med. Fælles for dem og de andre drenge i filmen er, at de følelsesmæssige og fysiske konsekvenser er alvorlige. Alligevel bevarer mange af dem en ungdommelig uskyld og optimisme. Varm, menneskelig og virkelig smuk.
EVENT: Efter filmen følger en samtale om dansk asylpolitik og den nuværende situation i forhold til grænsekontrol.
---
Tuesday  17th August @. 16:30


Buy Tickets Here


Venue: Cinemateket 
Pride & Protest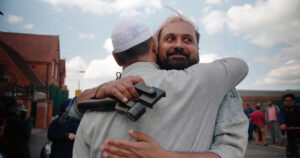 Dir: Blaise Singh, Year: 2020, Duration: 90 min, Country: UK, Language: English with English subtitles
In collaboration with Cph pride, Aks festival presents a documentary about QTIPOC  communities and activists in Britain and their struggles surrounding the politics of desire, self-care, and found family. In the wake of the Birmingham protests against LGBTIQ+ relationship education in primary schools, director Blaise Singh follows various queer people of colour as they challenge homophobia and racism in their communities. They speak out against internalised shame and lack of representation. Pride & Protest works on a level of activism and the united aims of inclusivity by Rainbow Films to show the presence and visibility of queer people of colour. The film itself illuminates their thoughts and activism, images of black and brown bodies at UK Black Pride celebrates alongside empowering personal narratives. 
EVENT: Following the film meet Tawseef Khan, activist and author of the book The Muslim problem in conversation with other activists about European queer Muslims and issues of representation.

DK
Aks festival præsenterer i samarbejde med Cph pride en dokumentar om QTIPOC-miljøet og aktivister i Storbritannien. Filmen stiller skarpt på deres kampe omkring begærspolitik, selvomsorg og fællesskab. I kølvandet på Birmingham-protesterne imod skolernes undervisningspraksis omkring LGBT parforhold, følger instruktør Blaise Singh en gruppe queer people of colour, der udfordrer homofobi og racisme i etniske minoritetsmiljøer. De tager kampen imod internaliseret skam og manglen på repræsentation.
Pride & Protest forholder sig til det aktivistiske niveau og følger Rainbow Films målsætning om inklusion ved at synliggøre queer people of colour. Filmen belyser deres tanker, kamp og aktivisme. Med billeder af sorte og brune kroppe til fejringen UK Black Pride, får vi indsigt i deres stærke og personlige fortællinger.
EVENT: Efter filmen kan du opleve Tawseef Khan, aktivist og forfatter til bogen The Muslim Problem, i samtale med andre aktivister om europæiske queer muslimer og spørgsmål om repræsentation.