Thursday 5th August @ 19:00


Buy Ticket here
Venue: Cinemateket
Zindagi Tamasha – Circus of Life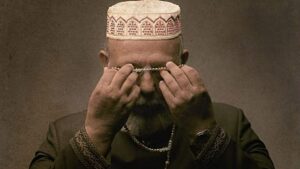 Director: Sarmad Khosat, Duration: 138 min, Country: Pakistan, Year: 2020, Language: Urdu, Punjabi with English subtitles
The title Zindagi Tamasha is inspired by a Lollywood classic sad song of the same name and is a perfect match for the portrayal of the chaotic and unjust society in this film. Rahat, a devout Muslim man, famous for singing hymns, takes care of his bedridden wife and is considered a pillar of support for his community. But he has a guilty pleasure – enjoying old Punjabi movies. At a wedding, egged on by friends, he breaks into a dance paying homage to his film idols. The video of a bearded man dancing freely goes viral and Rahat's life begins to crumble as he is shunned by his family and the wider community.
Sarmad Khosat's Zindagi Tamasha is a deeply affecting look at how society condemns those who refuse to fall in line and dare to express themselves freely.
Beside winning multiple international awards and being Pakistan's official entry to the Oscars, the film ended up in a controversy as the religious right wing accused of being blasphemous. As a result, the film which actually tries to awake dialogues on freedom of expression is suspended from all public screenings in Pakistan.
Event: The film will be digitally introduced by the director Sarmad Khosat live from Pakistan. After the film we will invite our local heroes to talk about Art and Freedom of Expression. 

DK
Titlen Zindagi Tamasha er inspireret af en trist klassisk Lollywood med samme navn og passer som hånd i handske til filmens skildring af en kaotisk og uretfærdigt verden. Rahat, en troende muslimsk mand, som er kendt for at synge salmer, passer sin syge kone og bliver anset som en solid samfundsstøtte. Men han har en guilty pleasure – han elsker gammmel Punjabi film. Til et bryllup lokker vennerne ham til at give en dans for at hylde sine filmidoler. Videoen af ​​en religiøs mand der danser så frit går viralt, og Rahats liv falder fra hinanden, da både familien og det omgivende samfund begynder at sky ham som pesten.
Sarmad Khosats Zindagi Tamashaer et dybt bevægende blik på samfundets fordømmelse af dem, der nægter at makke ret og tør udtrykke sig frit. Til trods for at filmen har vundet flere internationale priser og blev indstillet som Pakistans officielle bud til Oscaruddelingen, endte Zinadagi Tamasha i en kontrovers, da den religiøse højrefløj beskyldte den for at være blasfemisk. Derfor er filmen, som faktisk forsøger at åbne samtaler om ytringsfrihed, er alle offentlige fremvisninger blevet suspenderet i Pakistan.
Event: Filmen introduceres digitalt af instruktøren Sarmad Khosat live fra Pakistan. Efter filmen vil vi invitere vores lokale helte til at tale om kunst og ytringsfrihed.
---
Thursday 6th August @ 21:30


Buy Ticket here
Venue: Cinemateket
Naz & Malik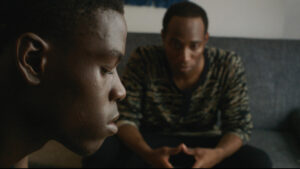 Director: Jay Dockendorf, Duration: 89 min, Country: USA, Year: 2015, Language: English
Naz and Maalik roam around the streets of Brooklyn, selling wares like tiny vials of scented oil and lottery tickets — they discuss their beliefs, Islam, the world, and their place in it. A lovers' quarrel and a search to find a chicken for slaughter adds levity to this touching and romantic portrait. However, when an undercover agent tries to sell them a gun, they are suddenly under investigation by the FBI. As they strain to hide their sexuality from their families and the Feds, their everyday lives become suspect in a way that is increasingly terrifying and unjust.
Jay Dockendorf's indie feature Naz & Maalik is about African-American teenage boys who also happen to be devout Muslims and queer. But the point is not representation for its own sake. The triple layer of alienation from mainstream culture makes for an excitingly fresh slant.
Event: the film will be introduced by our local queer muslim rolemodels.

DK
Naz og Maalik vandrer omkring i Brooklyn og sælger varer fra små flasker med duftolie til lottokuponer — sammen prøver de at få greb om deres tanker, islam, verden og deres plads i den. Et kæresteskænderi og jagten på en slagteklar kylling bibringer en lethed til den rørende og romantiske fortælling. Men da en undercover-agent lokker dem med ulovlig salg af en pistol, er de pludselig under mistanke for FBI. Deres forsøg på at hemmeligholde deres seksualitet overfor deres familier og FBI, får pludselig deres hverdag til at fremstå mere mistænkelig på en tiltagende uretfærdig og skræmmende måde.
Jay Dockendorfs indie spillefilm Naz & Maalik handler om afro-amerikanske drenge, der tilfældigvis også samtidig er queer og troende muslimer. Men pointen er ikke repræsentation blot for repræsentationens egen skyld. Det tredobbelte lag af fremmedgørelse fra mainstream kultur skaber et spændende og forfriskende blik.
Event: filmen præsenteres af vores lokale queer muslimske forbilleder.
---
Sunday 8th August @  19:00 


Buy Ticket here


Venue: Cinemateket  
La CIta (The Appointment)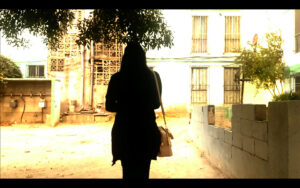 Directed by: Alex Kannan|  Country: USA |  Year: 2021  |  Duration: 17 min  |  Language: Spanish with English Subtitles
Grecia, a transgender woman, writes a letter to her friend Jeanine. From remembering her childhood to her daily struggles, Grecia gives us a glimpse into the life of a transgender woman navigating the cruel streets of Tijuana, Mexico.
DK
Den transkønnede kvinde Grecia skriver et brev til veninden Jeanine. Gennem skildringen af barndomsminder og den daglige kamp for at klare sig giver Grecia os indblik i den virkelighed man som transkønnet kvinde skal navigere i i Tijuanas barske gader.
At the End of Evin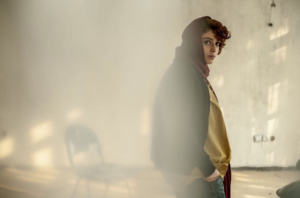 Director:Mehdi Torab-Beigi, Mohammad Torab-Beigi, Duration: 78 min, Country: Iran, Year: 2021, Language: Farsi with English subtitles
Despite state restrictions, Iranian cinema internationally obtains critical acclaim for great storytelling, aesthetics and new genres. Duo directors Mohammad and Mehdi Tarab's "At the End of Evin" is another great example of it. Amin is an underprivileged trans person, desperate to undergo gender reassignment, who ends up being entrapped in a circle of deception woven by the rich and well connected, Nasir. The plan is Nasir will arrange and pay for Amin's transition as a woman in return Amin agrees to role-play as his daughter Annie to inherit the grandmother's house. As the deal comes into effect, a lot more complicated and wicked realities unfold. 
This film takes us into a journey of desperation, exploitation and sacrifice seen and felt through the eyes of the protagonist and gives us an idea about how exactly transgender lives matter to the cis-gender world.

DK
På trods af Irans statscensur, er iransk film er internationalt anerkendt for fremragende fortællinger, æstetik og genremæssige nybrud. Instruktørduoen Mohammad og Mehdi Tarabs "At the End of Evin" er endnu et blændende eksempel på netop det. Amin er en underprivilegeret transperson, som er desperat efter at få en kønsskifteoperation. Men Amin bliver fanget i en ond cirkel, der udspringer fra den velstillede og indflydelsesrige Nasir. Planen er, at Nasir vil arrangere og betale for Amins operation, og Amin skal så til gengæld udgive sig for at være Nasirs datter Annie for at arve bedstemorens hus. Da aftalen træder i kraft, udfolder mere komplicerede og ondsindede virkeligheder sig.
Filmen tager os med på en desperat rejse fuld af udnyttelse og tab, som det ses og føles anskuet fra hovedpersonens perspektiv, og giver os en idé om præcis hvordan transpersoners liv betragtes og behandles i en cis-kønnet verden.
Event: filmen bliver introduceret af vores lokale trans* idoler.