Tuesday  den 17th  august @. 19:30


Buy Tickets Here


Venue: Cinemateket 
Aks International Minorities Festival promotes visibility in film and art. We facilitate dialogues at the intersection of politics, art and culture to address issues impacting minorities. This short films programme is curated to bring focus on LGBTIQ+ communities in the Global South, and the films are chosen in collaboration with Asia Pacific Queer Film Festival Alliance (APQFFA). 
DK
Aks International Minorities Festival bruger filmmediet til at skabe synlighed og debat om sociale forhold for minoritetsgrupper. Denne kortfilms program bringer fokus på LGBTIQ+ minoriteter i den Globale Syd,  og er kureret i samarbejde af Asia Pacific Queer Film Festival Alliance (APQFFA)
Kado (Gift)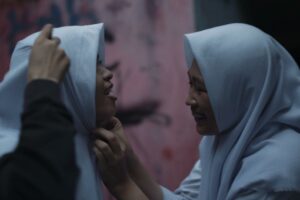 Dir: Aditiya Ahmed,Year: 2018, Duration: 15 min, Country: Inonesia, Language: Makassarese with English subtitles
Isfi can wear her comfortable pants among her guy friends but has to wear hijab to be accepted at Nita's house. Two days to Nita's Birthday, all Isfi wants is to prepare the best gift in Nita's room.
DK
Isfi kan gå med afslappede bukser blandt sine drenge venner, men er nødt til at gå med Hijab for at blive accepteret hjemme hos Nitas. Der er to dage til Nitas fødselsdag, og Isfi forbereder den bedste gave i Nitas værelse.
U for Usha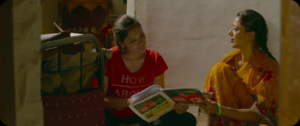 Dir: Rohan Kanawade,Year: 2019, Duration: 22 min, Country: India, Language: Marathi with English subtitles
Usha, a single mother who works as a farm labourer in rural India, finds herself drawn to a female teacher of local primary school, in ways she never knew possible.
DK
Usha er enlig mor og landarbejder i en lille Indisk landsby. Hun føler sig tiltrukket af en lærerinde på den lokale skole, på en måde hun aldrig havde forestillet sig.
Vadhai – A Gift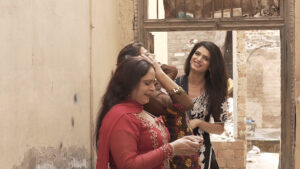 Directed by: Claire Pamment,  Malik Ammar and Umar Jilani  |  Country: Pakistan  |  Year: 2020  |  Duration:  20 min | Language:  Urdu with English Subtitles
Khwaja sira (indiginous transgender of South Asia) performances of vadhai, the repertoire of devotional prayers, songs, dances, and comic repartee, to celebrate weddings and births, have long been recognized as vital to these communities' identities. We follow Guru Amber's toli (group) as they bring music and movement to their neighborhood streets in Lahore, and take an intimate look at the kinship, beliefs, pleasure, and economies that drive these performances.
DK
I denne dokumentar følger vi Guru Ambers Toli (gruppen), når de bringer musik og dans til deres lokale kvarteret i Lahore. Vadhai er en traditionelt rituelt af velsignelser som gave fra Khawaja Sira (indigenous transkønnet af Sydasien). Filmen er et intimt syn på slægtskab, tro, glæde og fællesøkonomier.
Adorable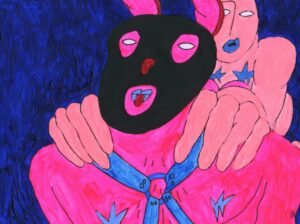 Dir: Cheng-Hsu Chung,Year: 2019, Duration: 6 min, Country: Taiwan, Language: Taiwanese with English subtitles
Adorable illustrates an observation of the modern queer society and fantasies toward the freedom of gender fluidity. This work is to reflect the real situation of the community where discriminations, freedom, and love coexist.
DK
Adorable er en animation der illustrerer observation af det moderne queer samfund og fantasier mod kønsidentitet og frihed. Filmen afspejler den reelle situation i samfundet, hvor diskrimination, frihed og kærlighed er flettet sammen.
The Floss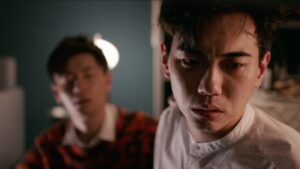 Dir: Fan Popo, Year: 2019, Duration: 15 min, Country: China, Language: Chinese with English subtitles
A story of love, fetish and communication. Would you tell your partner if you had a fetish even you yourself felt ashamed of?
DK
En historie om kærlighed, fetish og kommunikation. Ville du fortælle din partner, hvis du havde en fetish – også selv om du selv skammede dig over det?
The Rogers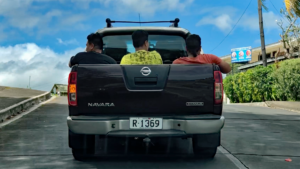 Dir: Dean Hammer,Year: 2020, Duration: 16 min, Country: USA, Language: English with English subtitles
An intimate glimpse of the first visible group of transgender men in the Pacific Island, the Rogers of Samao
DK
Et intimt glimt af den første synlige gruppe af transkønnede mænd på Pacific Island, Rogers of Samoa
EVENT: The shortfilms programme will be introduced by the representatives of Asia Paccific Queer Film Festival Alliance (APQFFA).
EVENT: Denne kortfilms program vil blive introduceret af repræsentanterne fra Asia Pacific Queer Film Festival Alliance (APQFFA).