Aks International Minorities festival is back in Copenhagen with an exceptional film and art program that will create space for the dialogues on issues impacting minorities such as racism, migration, asylum, minorties within minorites and the representation of queer, trans people of color (QTIBPOC).
Since 2015, the Danish edition of the Aks festival has focused on showing films and creating space for important debates on the topics that are often ignored by the mainstreams in Denmark. The festival is celebrating its fifth year in Copenhagen, once again we are fully motivated in creating spaces for conversations about marginalization and minorities. The festival will be held at Cinemateket from 5. Aug – 8 August with some extra pride screenings from 14th to 18th August. Apart from the screenings at the Cinemateket in Copenhagen, the festival will also organise film screenings and art exhibitions at other venues of World Pride 2021 and Frederiksberg Library. This year, we will also bring festivals to some other major cities in Denmark (Aarhus, Kolding and Odense).  
Apart from the regular film screenings, Aks festival will organise performance art events, art exhibitions during the World Pride Week and we will bring several artists and activists from South West Asia and North Africa (SWANA) region. 
The festival will use the unique medium of film and art to initiate public debates on the topics like racial profiling, art and activism, artistic freedom, racism, refugees and asylum processes. Aks International Minorities festival is extremely thankful to our partners and collaborators from Danish Film Institute (DFI), Cinemateket, Frederiksberg Library, Aarhus Pride, DOKK1, World Pride 2021, LGBT+ Denmark, Kolding Kommune and all the national and international filmmakers, artists and activists who helped us with their contributions.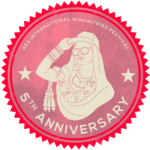 Click here for the PDF catalogue
DK
Aks International Minorities festival vender tilbage i August med en række film- og debatarrangementer med fokus på temaer som racisme, flygtninge og migranter, samt queer-, trans- personer med minoritetsbaggrund.
Aks-festivalen har siden 2015 skabt en platform for at vise film og skabe rum for vigtige debatter om emner, der ikke får plads i medierne eller på mainstream platforme. Festivalen fejrer nu sit femte år i København, hvor vi igen skaber rum for samtaler om marginaliserede minoritetsgrupper. Der er fire dage (5. Aug – 8 Aug og 14 aug) med film og debat i Cinemateket, og programmet byder i år blandt andet på film om raceprofilering, kunst og aktivisme, og ikke mindst den gribende dokumentar Pride & Protest om engelske LGBT minoritetspersoner.
De unikke muligheder i filmmediet bruger Aks som middel til synliggørelse af LGBT-forhold på tværs af køn, religion og etnisk oprindelse. I år er der fokus på racisme, flygtninge og migranter, QTIPOCs (queer-, trans- og indigenous-personer) og europæisk queer muslimerne. Festivalen skaber et rum for debat med lokale og internationale kunstner, aktivisterne og akademikere både i form af fysisk seminar or webinar. Aks festivalen byder også på et særlig event i samarbejde med World Pride 2021 fra  14. til 18. Aug af filmvisninger og debatarrangementer.