Aks International Minorities has submission OPEN year around, becaue the festival takes place 3 times a year in 3 different locations, Copenahgen(DK), Manchester(UK) and Pakistan.
Aks International Minorities Festival, Film – Art – Dialogue proudly accepts entries via FilmFreeway.com, the world's best online submission platform. FilmFreeway offers free HD online screeners, unlimited video storage, digital press kits, and more. Click to submit with FilmFreeway.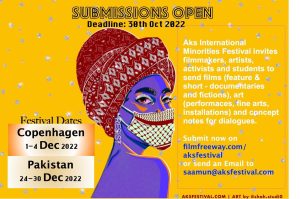 or You can simply send us your work by sending us an email on program@aksfestival.com with a digital streaming link of your film, video or visuals of art work with synopsis and other relevant information.

1. Submission should contain Minorities related content; (racial, ethnic, disabilities, gender, sexuality (LGBTI+), religiouse and all other marginalized minorities around the world)
2. Industrial, promotional and instructional films are ineligible;
3. It is our policy not to offer comments or reasons when submissions are not invited to participate;
4. Once a film has been submitted, it cannot be withdrawn;
5. Aks festival accepts no responsibility for loss or damage to preview tapes and any supporting material;
6. Aks festival and its officers, agents and employees take no responsibility for any infringement of copyright, performers' rights, defamatory, illegal or obscene material or other liability whatsoever contained in or arising out of films/videos submitted.