From fall 2019, we will be collaborating with universities, colleges and other public institutes to foster educational and awareness programmes by holding events to encourage dialogue on minorities' issues. Aks International Minorities Festival has carefully designed three short film programmes, all made in Pakistan, bringing to light the existing diversity in the country and to shed light upon the challenges of minorities and marginalized communities.
The idea behind Aks OUTREACH is rooted in creating safe spaces for marginalized communities and creating avenues for cultural dialogue, by engaging mainstream socio-cultural and political platforms in the struggle for the rights of minorities. Aks festival engages its audience by challenging them to empathise with and demand justice for marginalised communities. The very diverse film and arts program helps bring forth global human rights issues to the audiences.
The main objective behind this program is to create dialogue for empowerment and to promote the visibility of minorities within Pakistan. Furthermore, these events will also help promote local talents i.e. filmmakers, artists by screening locally produced films in Pakistan and across the globe.

If you are a film festival, assosiated with a university or any other Public institute and community based platform, you are more than welcome to contact us on program@aksfestival.com for the booking of the whole OUTREACH program or any of the film in this programme.
Click on the icons to see the full program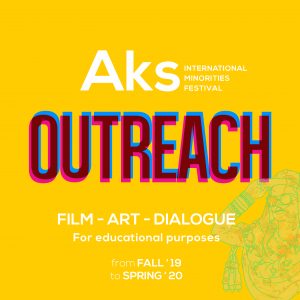 Year 2019/2020